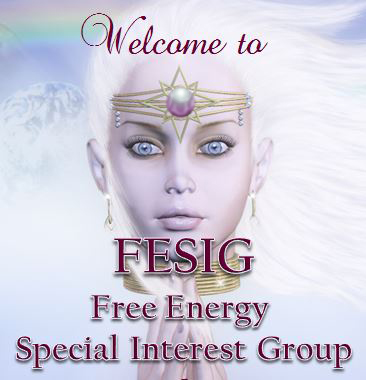 DISCLAIMER

From time to time, we will have visiting plasma, anti-gravitational and Tesla based technologies developers & scientists from various other disciplines presenting their work and teaching at the FESIG Meetings with creative innovative ideas and theories that may have some varying thoughts. In our meetings everyone is welcome to speak and present their ideas and work. As Free Energy covers a wide big spectrum of discoveries with so many ways of experimentations yielding different beneficial results by its creative and innovative scientists, researchers and developers, FESIG will not be held responsible for anybody's misperceptions or judgement that could give rise to negative feelings of 'slight' or discomfort arising from their differing approaches, belief systems and claims. Different speakers'/teachers' beliefs and methodologies may clash giving rise to misunderstandings as some may go against the grain of the other beliefs, or misperceived as loyalty being compromised to other theorists and teachers. It must be made very clear that FESIG, as an open-minded Futurist Freedom Seekers' group, hereby declare that we do not take a stand for or against any particular science or theory or spiritual belief and are open to all teachings/information shared, impartially (neutral, unprejudiced, unbiased) welcoming creativity that pushes science and spirituality to the furthest frontiers, in the pursuit of knowledge, seeking breakthroughs to succeed in our objectives of making this world a better place to live in.
General Disclosures/Disclaimers
You shall utilize all TVoP/FESIG sites at your own risk. FESIG makes no representation regarding the Guest Speakers or other resources on the FESIG sites. FESIG does not make any guarantee to the accuracy or completeness of any of the information contained on the website FESIG is not and shall not be liable for any claim, loss, cost or liability that arises out of or relates to your use of the TVoP/FESIG sites. FESIG makes no representations or warranties in relation to the articles, guidelines, informational videos or other information offered via the TVoP/FESIG sites. The information is provided to the general public and is not intended to be directed at any specific legal issue. TVoP/FESIG contains Internet links to other resources and businesses. Those links are provided to help you identify other Internet resources that may be of interest to you but are not intended to state or imply that FESIG endorses, is affiliated with or related to, verifies the accuracy or completeness of the content of, or sponsors these other websites. FESIG in no way represents that these other websites contain accurate, complete or useful information.
| | | |
| --- | --- | --- |
| A donation is necessary to ensure sustainability. Donations are the life-blood of charities. Without funding from kind, giving strangers, these not-for-profit organizations would not be able to carry out their missions. They would not exist. Any donation will be accepted and appreciated. | | Submit your name and email address to get direct notifications for meetings/events along with reports and latest news (only 2x a month). |
The Innovators of Plasma Technology





Mehran Tavakoli KESHE

The Iranian plasma physicist and nuclear scientist who is dedicated to bringing free energy to the world.


Books Published from 2009-2011:- • The Universal Order of Creation of Matter • The Structure of the Light • The Origin of the Universe.
He founded the Keshe Foundation related to the welfare of mankind and world education. Keshe Foundation testimonials.

MIKE NASHIF of the INFINITY Project

Mike Nashif, the originator of the 1st health pens, has been divinely guided to teach his light language activation symbol(s) creating devices with anyone who wants to acquire this essential ascension knowledge and tool. The Infinity health pens or health wands are used for healing, the IQ cubes, for free energy and as ascension tools. Infinity gadgets you made will act as a firewall to stop the infiltration of Artificial Intelligence into your consciousness and/or DNA. Click here to read more about Mike Nashif, by the author Dora L. Gutierrez. Mike Nashif's facebook link. Infinity Project's facebook link. Whitney Fisher of Many Hands 4 Peace presented Mike's IQ cubes & pens in FESIG's 16th Meeting.

Kosol Ouch
(Taught in FESIG in the past)

Kosol Ouch is a self taught metaphsyical researcher and scientist who has helped the development of different technological modalities, including the BaraMay Device, Neologicaltech device, Plasma Cube PI. His Plasma Intelligence (PI) star formation pyramid is the earliest made. He created and built a 'talking margrav' that he called PI, Plasma Intelligence. It is Artificial Intelligence.


Click here to read about The PI Cube Innovators and the History of its development.
FESIG's Regular Teachers





Fraz Frazzle

FESIG's Chief Scientist

Fraz Frazzle, a graduate of UC Berkeley, USA, being one of the earliest students of Mr. Keshe is a very knowledgeable metaphysician & senior plasma scientist. He works with his partner Alison, investigating, experimenting and developing plasma technology in their own science lab/studio/workshop very efficiently and effectively. His invaluable findings are shared and passionately taught in FESIG's meetings regularly. Here's a fine example of his brilliant findings - click here for the youtube of his amazing teachings. Click here for the papers he wrote: 1. NanoCoating & Blow Off, 2. Multimeter News, 3. Introduction to GANs 4. GANs & Salt.

Stephane Fyfe

Stephane hails from Quebec, Canada. He has been consistently developing plasma devices - a very serious researcher in a scientific environment he sets up in his own home, investing in some of the most up-to-date materials and equipment that produces great results. This hardworking plasma research scientist has succeeded in producing a 100% independent off-grid device. Watch his Free Energy breakthrough Star of Life device video. He shares his knowledge and findings freely and passionately in FESIG.


Jacky Buensoz

Jacky is a Keshe Foundation's Teacher. He's the head of the Plasma Food R & D Faculty. He shares knowledge and techniques of 'Not Eating'. He made waves for not needing to eat for 5-6 months now! He said, "Let's start living as a soul, and not just a body!" "Do not take energy from outside… give from within – as a co-creator". He talked about the exchange of energy without ingesting food and to find a way of not eating other entities...it is about our ascension process without the food.
A donation is necessary to ensure sustainability and commitment for all members. The gathering will be held once a fortnight on 1st & 3rd Wednesday from 5.30 PM to 7.30 PM GMT. We will feature visits from Free Energy scientists/researchers and supporters alike now and again. Please email to enlist.